About us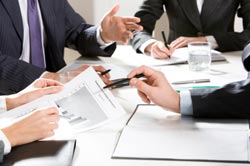 Association of Accountants and Auditors of Republic of Srpska was founded and registered on 28 October 1996, as an association of professional accountants. This professional, non-profit and non-governmental organisation, headquartered in Banja Luka, consists of 11 voluntarily associated accounting societies which are, in accordance with the territorial principle, the basic organisational form for accountants and auditors in Republic of Srpska.
The Association's vision is to create the profession of accountants, auditors and other financial experts which will be ranked amongst the most developed professions of this type in the world. Our mission is the development and improvement of the profession in compliance with the best world practices, as well as affirmation of accountants and auditors as an elite profession in our society. All the aforementioned by all means serve the prosperity and integration of our society into European structures.
Along with the transformation of accountancy towards accepting and applying International Standards of Financial Reporting (IFRS) and International Accounting Standards (IAS), our Association quickly and clearly oriented itself towards the European accounting approach and, owing to this very vision, has made a big success.
As to our publishing activities, since 1999 the Association has been publishing Finrar, the professional magazine with the current circulation of 3000 copies, which is the best evidence and indicator of an undeniable quality of the magazine.
In 13 years of our existence, Association of Accountants and Auditors of Republic of Srpska has successfully organised 13 annual congresses, where university professors and respectable experts from the domain of accounting, audit and finances presented a great number of their scientific works. The conclusions and proposals from our Congresses have always been for the benefit of development and improvement of the profession as well as the creation of a safer economic environment in Republic of Srpska.
In accordance with the program orientation and legal obligations, in the previous years the Association has had intense activities in regard to implementation of its core business through the education of the membership. In accordance with the proclaimed goals and International Accounting Education Standards (IAES), Association of Accountants and Auditors of Republic of Srpska is obliged to provide its membership with continual education. Given all this, the Association is engaged in translating, publishing and implementing IAS and ISA.
AAARS is a founding member of the regional organisation called SEEPAD (South Eastern European Partnership on Accountancy Development).
On 11 November 2004, AAARS became an associated member of IFAC (International Federation of Accountants). This is the biggest international acknowledgement to the Association and, at the same time, a great success for both Republic of Srpska and Bosnia-Herzegovina. Association of Accountants and Auditors of Republic of Srpska is the first and so far the only accounting association from BIH to have become an IFAC member.
The AAARS membership consists of 167 certified auditors, 2252 certified accountants and 2201 certified accounting technicians (accountants with the minimum of secondary economic school plus education courses).